Because YOUR PARKING LOT is YOUR CUSTOMER'S First Impression
OVER 12 YEARS OF EXPERIENCE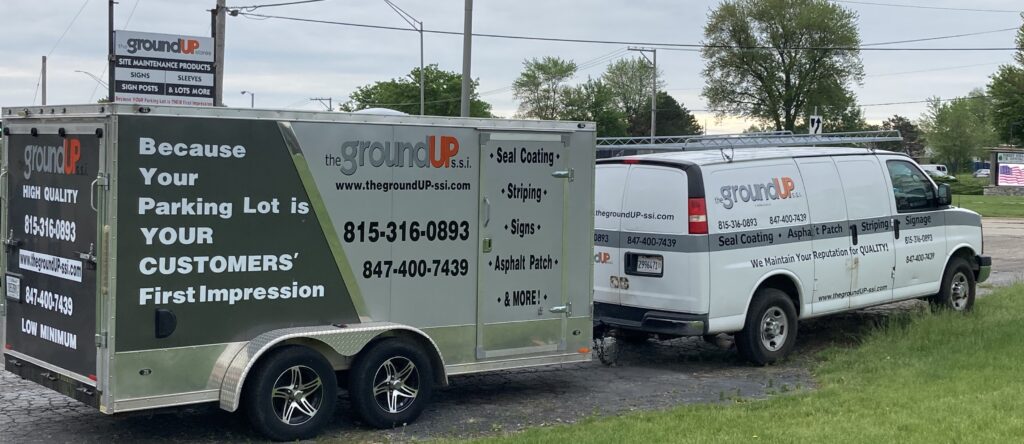 the groundUP s.s.i. will save you the time, effort and energy of finding a reliable provider for your seal coating and lot maintenance needs.
With over a decade in business and counting, the groundUP s.s.i. is dedicated to providing the best quality service to any project, no matter how small or large.
Because Your Parking Lot is YOUR CUSTOMERS' First Impression
Take care of your parking lot before it deteriorates, and ultimately costs you more money! 
Seal coating should be performed on your parking lot every 2-3 years depending on the weather and traffic volume!
Check out our article about seal coating and parking lot maintenance located HERE.
Services We Offer:
Pavement Marking
Seal Coating
Sign Installation
Asphalt Patching
Pipe Bollard Installation
and more!
Business Hours:
Whenever you need us!
Retail Store hours:
8:30 a.m. – 5:30 p.m.
Yes! We work weekends and evenings too!
Call us for scheduling an estimate: 815-316-0893
The most important advantage we offer you over our competitors is our complete dedication to you and your needs. In all sales and installations, we're always searching for a win-win situation for you and us. To us, business is not about sales – it's about relationships. We're here to answer all of your questions! We want to be your go-to problem solvers. The biggest compliment we can receive is when a customer asks us "What else can you do for us…?".
We protect our reputation by bringing a level of professionalism and customer service to the signing and striping industry that isn't seen in many competitors. We want you to be happy with every service, which is why we offer honest advice and follow-up for every project. This has allowed us to have the privilege of gaining the trust of many companies in the Upper Midwest, gaining significant annual growth since our inception in 2009. We're a locally owned business with 25 years of industry experience.
It's important for us to know how we can improve! If you notice something that you don't feel fits our values and business practices, please let us know. If you can think of any services that you could benefit from that we don't currently offer, please let us know. Your input is very valuable to us.